Back To Our Services
We are not merely an excellent garage door company but also a reliable, well-trained gate repair contractor. We have the best teams at "Garage Door Repair Farmingville" for all your gate needs and we make sure they're covered with incredible speed, perfection and efficiency. Our technicians are equipped with state of the art tools in order to cope with the requirements of each gate opener and intercom system. We're all experts and fully devoted to our work. This means that we follow the development of gate phone entry systems and operators and this does not only make us excellent installers but also perfect contractors for all services and valuable consultants.
We have perfect contractors trained for all services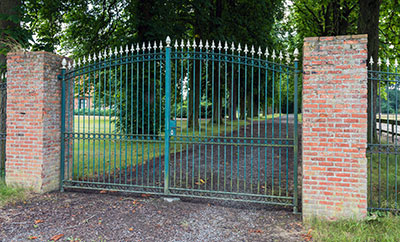 You can count on our expert teams for both home and commercial gate services. Knowing the differentiations among openers and the demands of each property will provide you with great solutions tailored to your own requirements and expectations. Thanks to our expertise and dedication we have the skills to install, repair and maintain all gates and their parts with equal effectiveness, accuracy and excellence. Here are some of the services we provide:
Electric gate repair
We're masters in all services related to sliding and swing gate operators. Such systems are vital for your easy entrance but also your safety. For this reason, we repair damages at once. We're perfectly capable for sliding gate chain replacement or the replacement of the entire opener system but we also offer same day operator maintenance. Every part associated with the electric system is checked and maintained thoroughly and we make sure adjustments are done to your satisfaction.
Maintenance service
We maintain the entire gate meticulously. Apart from gate opener service, we also emphasize on the different parts of each mechanism. We check and lubricate wheels, tracks and hinges. Our technicians never fail to tighten fasteners and ensure that movement is done properly and the whole system is safe.
24/7 sliding gate safety sensor repair
Safety sensors are extremely important and we deal with any of their problems at once. Openers must comply with UL 325 guidelines and that means your operator must integrate the right entrapment protection devices, which must also operate well. In a different case, our teams will be there to fix, adjust or replace them. Of course, we offer 24/7 emergency service for all other threatening problems and can assure you that our arrival is immediate.
Gate intercom services
We provide full intercom services and so we're the best contractors for intercom installation, repair and programming. These systems are critical for your security and since their technology changes fast, we keep track of their development in order to offer you high quality service. We're familiar with all brands and are here to assist you any time.
Swing gate hinges replacement
Swing gates are stable thanks to hinges. If hinges are rusty, the panel will fall or won't close well. We're available for repair services, but rest assured that our contractors know how to replace them fast as well. Most definitely, we have the skills to replace any other part with accuracy and you can rely on our expertise.
This is only a fraction of what we offer. Each gate has its own unique needs and is affected by many factors. We offer twice as many solutions and services keeping in mind that the safety of the client comes first. Browse our website to learn more about our services!
Back To Our Services